Close
Avangate Acquires 2Checkout

to Expand Payment Flexibility and Broaden Market Reach

Combined company will bring a unique combination of eCommerce and subscription management solutions to market through various payment models across the globe.
Find out more:
Advisera Streamlines eCommerce Operations with 2Checkout
B2B company improves shopping cart functionality, operational efficiency, and sales tax compliance using Avangate Monetization Platform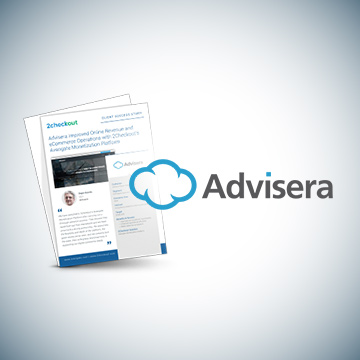 ATLANTA, GA - Aug 28, 2018 - 2Checkout (formerly Avangate), a leader in eCommerce, payments and subscription billing solutions, today announces that Advisera, provider of digital products related to industry standards, grew online revenue and streamlined ecommerce operations with its use of 2Checkout's Avangate Monetization Platform.
As a global provider of B2B digital products, Advisera offers specialized guidance, tools, trainings, books, expertise, and documentation on regulations and industry standards such as GDPR, ISO 27001, ISO 9001, ITIL and more. The company wanted to increase its global sales by improving cart conversion, enhancing the purchasing experience and improving ecommerce operational efficiency.
Using 2Checkout's Avangate Monetization Platform, Advisera was able to increase conversion rates with a highly configurable shopping cart, access a variety of configurable eCommerce tools and achieve comprehensive sales tax compliance. The 2Checkout merchant support team, together with the dedicated Client Success Manager, were instrumental in facilitating eCommerce success for Advisera.
"Advisera has increased revenues by 150% since switching to 2Checkout. We've enjoyed an amazing service from the 2Checkout team, which has clearly contributed to this growth," said Dejan Kosutic, CEO of Advisera. "We look forward to continuing to leverage the platform and utilize even more capabilities, especially as we embark on launching subscription-based products. We also really appreciate the co-marketing activities 2Checkout organizes for its clients, showing that they care about the partnership and our overall success."
"The complexity of global online sales is continuing to increase and we are here to relieve our clients of this burden, as we provide an intuitive, easy-to use and rich commerce platform, as well as the guidance and expertise to help them succeed," said Erich Litch, Chief Revenue Officer, 2Checkout. "Advisera is a shining example of a company that was able to use what 2Checkout has to offer to grow its online business worldwide by improving conversion rates and overall online sales and by making operations more efficient. We're pleased to be part of Advisera's success as the company continues to expand."
For more information, read the full Advisera 2Checkout client success story.
About Advisera
Advisera Expert Solutions Ltd seeks to make standards easy to understand and simple to implement. Advisera helps customers Implement ISO, OHSAS, IATF, AS and ITIL standards on their own and achieve certification with the help of guided documentation. Over 5000 companies from more than 100 countries have passed audits and achieved certifications with the help of Advisera's online education courses, certification exams, tools, documentation toolkits, and standard expert assistance. Advisera has grown to become the world's leading provider of online training, tutorials and documentation for ISO 27001, ISO 22301, ISO 9001, OHSAS 18001, ISO 14001, AS9100, IATF 16949, ISO 20000, and ITIL.
More information at: www.advisera.com
About 2Checkout (formerly Avangate)

2Checkout, a Francisco Partners portfolio company, is the digital commerce & payments provider that helps companies sell their products and services via multiple channels, acquire customers across multiple touch points, increase customer and revenue retention, leverage smarter payment options and subscription billing models, and maximize sales conversion rates. The company's clients include ABBYY, Absolute, Bitdefender, FICO, HP Software, Kaspersky Lab, and many more companies across the globe.
Avangate acquired 2Checkout in March 2017. More information about 2Checkout's Avangate platform and related services can be found on www.avangate.com.
More information on 2Checkout can be found on www.2checkout.com
Media Contact
For media & PR inquiries related to Avangate, please contact:
Delia Ene, Avangate


Avangate Newsletter
Whether it's news you're looking for or an expert's advice on how to sell software, SaaS or digital goods online, you came to the right place. Find guidance in our latest eBooks, webinars, reports and conversations with industry thought leaders to further increase revenue, maximize the value of every customer, and expand global reach.