Close
Avangate Acquires 2Checkout

to Expand Payment Flexibility and Broaden Market Reach

Combined company will bring a unique combination of eCommerce and subscription management solutions to market through various payment models across the globe.
Find out more:
VSO Software - Audio & Video Expert
Complete Commerce, beyond just Online Payments
"Avangate has such a strong network all over the world with localization, client support, and they go beyond that, providing such a good customer experience.

We've been partners with Avangate for almost seven years - the best thing about Avangate is definitely the relationship that we have with them. They're always bringing in new ideas that we didn't even think of, new ways of doing things," Annelise Vo Thanh, Business Manager at VSO Software.
About VSO Software
VSO Software produces CD and DVD burning software for beginners and experts alike. A wide range of tools is available to complete daily backup jobs and multimedia creation. Free trial products are available for download. VSO Software products are well acclaimed by the software community and have received awards and testimonials from numerous download sites, such as: TOPVideoPro.com, Tomdownload, BurnWorld, TopShareware, Burner-software, CuteApps, SharewareOrder, ShareUp, PadRing, Daolnwod, SoftAwards, SharewareRiver, Trialware, SoftDLL, Soft14, Soft-News, PCDownloadWorld, Cdfreaks, Telecharger.com, Clubic.com, FREE'N'Share, FilesWeb, DownloadMix. For more information avout VSO Software visit their website.
The project
Customer satisfaction is a very important concern with VSO Software and is translated throughout its philosophy: from software business logic and interface to installation support and further on to commercial activities.
In August 2006, VSO Software decided to search for an alternative solution to back-up the online payment option - an unpredicted shutdown of the service would have been unacceptable. Keywords for research were: cost-efficient, secured, and reliable. Avangate came to meet all these requests as well as much more, proving itself a trustworthy partner for VSO Software.
Objectives
Requirements for Avangate were to securely process orders made by credit card on VSO Software website, as well as be flexible in integrating various sales & marketing tools, all in a cost efficient manner. Avangate's objective was however a higher one: prove itself to VSO Software as a real partner for business development, much more than a simple e-commerce solution provider.
Key issues
Flexible solution - ability to develop new features upon request;
Honest business approach;
Quick responses to emerging needs;
Proactive attitude and strong business perception;
Dedicated contact: sales and technical.
The challenge
VSO Software wanted to find an alternative solution for processing online card orders to back-up the existing solution with the same level of integration in the VSO's backoffice. Avangate challenge was to highlight the added value brought by the solution itself as well as by the team: flexibility, quick response, reliable order management.
The Avangate solution tested successfully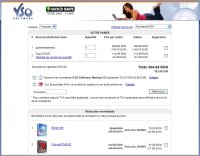 VSO Software implemented the Avangate eCommerce solution for an initial testing period of 2 months with a load balance in the first month of 10% and 50% in the second month. Currently Avangate is the default credit card order processing option.
Besides the online payment facility and fraud prevention, the Avangate solution also offered built-in features and tools such as cross-selling, sales promotion management, real time sales reports forecasting tool and statistics. Moreover, some features under development at the time gained value when confronted and customized according to VSO Software input. A true team was formed: client VSO Software and provider Avangate.
Above all, Avangate came with the right attitude for doing business - honesty - reflected in ongoing availability for consultation, feature development and in well estimated pricing per service.
Flexible solution - swift development and implementation of new features
Working together with VSO Software proved an extremely rewarding experience as new features already under development with Avangate were improved due to the former constant feedback and openness. The Avangate R&D team took up to the challenge, managed to take in client's input and translate it into trustworthy e-commerce functionalities.
When technological developments are made with a keen eye to beneficiary business and they take into account all the valuable client feedback, the resulting features will most definitely do well. The person-to-person approach Avangate maintains was quite helpful in this respect - it means that clients permanently have a dedicated sales contact as well as a technical one in order to best fill in all needs.
This was particularly appreciated during the VSO Software account implementation as the development rhythm was so fast that it definitely needed steady contact with the technical department - going through complicated information flow procedures would have probably slowed down most of the efforts.
Gift Option - taking advantage
Avangate is constantly investigating and developing new marketing and sales tools aimed at boosting online software sales. One of the tools included in the Avangate 2007 Q1 road map was the Gift option.
There was a perfect match again. VSO Software was just conducting an opinion poll that highlighted the end-customer request for such an option. Understanding the potential of this feature in terms of increasing revenues, VSO Software requested Avangate to make the gift option available in time for the December 2006 holiday season. Avangate responded positively and speeded up the development process in order to release the feature ahead of schedule.
Backup CD - bringing in more sales
Also during December 2006, Avangate launched the Backup CD, designed to increase software sales and enhance end-customer satisfaction. The Backup CD service provides software vendors with a competitive advantage as they can supply clients with a physical copy of the purchased software as well as make use of a marketing tool where customization is complete, both in terms of content and cover layout. VSO Software implemented the feature as soon as it became available - good service for a fairly estimated price.
Client feedback
We're very proud to have been with Avangate from the early beginning! Both our companies have accompanied each other in a great adventure over the past 7 years. Right from the start we received great customer service and a real concern for our requirements and we never looked back. What we like with Avangate: Excellent customer support with reliable staff who provide ideas for better shopping cart management + the best selection in payment methods and currencies supported + constant technical improvements and last but not least a really good affiliation scheme.Working directly with Avangate team made us value them as real partners not just as other e-payment providers," VSO team.
In brief -The Avangate solution for VSO-Software:
eCommerce platform for online software sales
Multiple payment options, including PayPal
Cross-selling tool, sales promotion management
Real time sales reports forecasting tool and statistics
Backup CD
Gift Option
24/7 end-customer support via phone and email
How Avangate can help you
Avangate B.V. provides solutions for electronic software distribution and reseller management, assisting software companies worldwide in successfully selling their products online and at the same time efficiently managing a distribution network. The company's offer includes an eCommerce platform incorporating an easy to use and secure online payment system plus software marketing services and additional marketing and sales tools such as an affiliate network, automated cross selling options, software promotion management, real time reporting, 24/7 shopper support, and the ARMS reseller management program specifically designed for software sales.
For more information please contact us We endeavor to reply to your query within 24 hours (working days).