Close
Avangate Acquires 2Checkout

to Expand Payment Flexibility and Broaden Market Reach

Combined company will bring a unique combination of eCommerce and subscription management solutions to market through various payment models across the globe.
Find out more:
Avangate success stories | ConvertMod iVerio Case Study
iVerio Software, video converter tools for MAC and PCs

Software: iVerio Software, video converter tools for MAC and PCs
Site: www.convertmod.com
Download the PDF version (4.44 MB)

ConvertMod develops the iVerio multimedia tools which simplify the entire process of video conversion from any type of Camcorders for viewing and editing on MACs and PCs. The company was founded in December 2007 by Francois Pedeboscq, the developer of the first iVerio version for MAC. An iVerio Windows version soon followed and since then both versions are being developed and improved in the same spirit of simplicity.
The Challenge
A microISVs and a fresh start-up, ConvertMod considered selling iVerio software online. The company also intended to create a buzz around their products but lacked experience in promoting software effectively via the Internet and in attracting targeted visitors on the company website.
iVerio had very few customers and low product awareness.
Why Avangate
Avangate was chosen as an eCommerce provider to facilitate ConvertMod sell products online but also to help the vendor increase iVerio's exposure on the Internet, ultimately leading to more e-sales.
In evaluating eCommerce alternatives, Avangate offered the most comprehensive solution - providing significant added value through professional advice on selling "the smart way" using marketing and sales tools and optimization campaigns.
The Solution
Avangate offered iVerio a unified solution for selling software online and increasing product exposure and conversion rates.
The core of the solution was the Avangate full featured eCommerce platform, coming together with advanced marketing and sales tools, a growing affiliate network and comprehensive reporting.
A web marketing campaign completed the solution to spread the word about iVerio products and increase the client's sales volumes. This included:
Usability audit - assessed the ergonomic quality of the user interface, identified the website usability deficiencies and suggested appropriate improvements; contained a prototype proposal and implementation support.
Search engine optimization (SEO), including on- and off-page optimizations. Avangate worked closely with ConvertMod to identify best performing keywords and provided consultancy on how to put recommendations into practice under the strict limitations imposed by their existing CMS.
Pay per click (PPC) campaign - generated new downloads and sales of the ConvertMod product at an efficient cost.
Software submission service – included optimizing the product PAD files and submitting the software to 500 download websites to increase the number of downloads, popularity and backlinks.
Results
iVerio products gained exposure on the Internet, which generated a boost in web traffic and ultimately an increase in sales. Optimization campaigns improved conversion rates. The Avangate eCommerce platform, packed with marketing and sales tools customized for software sales along with cost-effective marketing actions contributed additionally to revenue growth.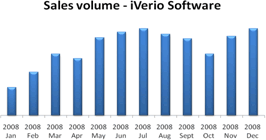 Strong and consistent increase of iVerio sales volumes:

An average of 126% increase in sales month on month in H1 2008 - first six months of implementing the Avangate solution
134% increase in H2 2008 compared to H1 2008
Increase of affiliate sales: from 4.3% in the first six months of implementation to 5.5% of sales in the following six months

Worldwide sales, from Europe to Australia and Canada, Russia and China
3 digit increase of traffic from search engines
Benefits
The Avangate solution offered ConvertMod the opportunity to grow the business quickly and cost efficiently and to create a buzz around iVerio products. Although a small start-up company, ConvertMod received full implementation support, guidance and professional marketing & sales advice on how to improve their website, optimize marketing actions, promote iVerio online and attract targeted customers all over the world.
Most appreciated
Responsive and Reliable Support Team
Experience and knowledge to help grow a software business
24x7 customer support
Easy to use eCommerce platform Control Panel
Effective services – results: increased product visibility on the web and more sales
How Avangate can help you
Avangate is an e-Commerce platform for electronic software distribution, providing all the tools and expertise you need to accept payments online, optimize the sales process and increase your visibility on the Worldwide Web.
For more information please contact us. We endeavor to reply to your query within 24 hours (working days).