Close
Avangate Acquires 2Checkout

to Expand Payment Flexibility and Broaden Market Reach

Combined company will bring a unique combination of eCommerce and subscription management solutions to market through various payment models across the globe.
Find out more:
Avangate Customer Success Stories
PadiAct - SaaS Provider for Email Subscription Optimization
SaaS Provider Increased Sales & Expanded Globally with Avangate
"Avangate helped us increase our monthly worldwide SaaS sales by 13%. They are facilitating this growth by providing streamlined purchasing services and localized capabilities that enable PadiAct to reach new markets and convert 85% of trial customers that reach the freemium limit of the service to paying commercial customers. The benefits of Avangate don't stop there: an API for upgrading and downgrading subscriptions with the click of a button, impeccable order and payment support, and managing every invoice mean that the PadiAct SaaS business could not have a better eCommerce provider," Claudiu Murariu, Co-founder, PadiAct.
About PadiAct

SaaS provider PadiAct is all about email subscription optimization, helping customers collect highly targeted email leads. A free SaaS plan is available to all users, and when a certain limit on the number of leads is reached, users can switch to a monthly paid subscription.

PadiAct's key objectives were to offer customers a seamless buying experience, expand globally, automate operations, and improve internal efficiencies.

Context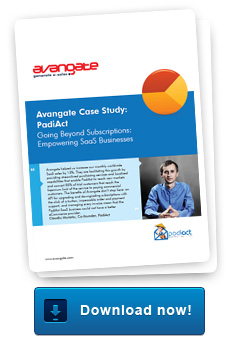 The primary challenge PadiAct faced was to find a flexible eCommerce platform that they could leverage for international expansion without the hassle of having to become a merchant of record or worry about international sales taxation, currency exchange, and other complex factors.


The SaaS provider selected Avangate due to the agility of the Avangate platform, the API capabilities, and the flexibility regarding shopping cart customization and outsourced billing and invoicing, as well as strong localization capabilities for global sales.
Results at a glance:
Increased sales by 330% (13% Month on Month) and doubled the number of countries selling into.

This solid growth is credited to PadiAct's intensified content marketing activity, as well as to Avangate's localization capabilities. These include support for recurring payments, which are crucial for subscription-based businesses.

Converted thousands of trial customers to paying clients.

PadiAct has an 85% conversion rate from trial (users that reach the freemium limit of the service) to premium. With Avangate, they are converting all trial customers that enter the shopping cart to paying commercial customers.

Increased internal efficiencies and freed resources.

Avangate takes care of all billing, invoicing, and customer support for payment-related issues, freeing up PadiAct to focus on product features and development.

"Our team has built a great SaaS product. I would rather have us focused on that product than working on billing, international taxation, or shopping cart optimization, which are not our core business. The Avangate API allows us to use and customize all those great features without having to build them ourselves. It's a win-win for everybody, especially for our customers," concludes Claudiu Murariu, co-founder of PadiAct.

As PadiAct's success shows, Avangate can help any SaaS company boost international reach and streamline operations in order to increase revenue. A simple checkout system, automated upgrade and renewal processes, and relevant localization help attract and retain customers with little effort from the SaaS provider, enabling business to expand rapidly in any region.
Want to learn more about this success story? Read the full case study here.
Read more Avangate client success stories.