Close
Avangate Acquires 2Checkout

to Expand Payment Flexibility and Broaden Market Reach

Combined company will bring a unique combination of eCommerce and subscription management solutions to market through various payment models across the globe.
Find out more:
Avangate eCommerce Manager
Grow Online Sales Globally
Self-Service, Fully Configurable, Fast Time to Market

Avangate offers the leading digital commerce platform that lets you sell online quickly. Our customers benefit from a rich set of features that let them transact at every customer touchpoint, introduce new business models such as subscriptions, and reach their target audience globally - all in one seamless solution with rapid setup, easy management and cloud scalability.
Fast and Easy Setup
Start Selling Your Software Online Immediately
With the fast, flexible Avangate eCommerce Manager, set up your online customer buying experience with self-service controls and templates. Define your business rules and set the foundation for online revenues - quickly and easily.

Control Panel
Centralized control panel with role-based security. Context-sensitive help and self-service controls.

Integration
Integrate with existing applications as well as CRM, Finance and ERP systems.

Templates
Easily customize, localize and optimize your go-to-market strategies.
Stores
Quickly Set Up Stores and eCommerce Programs

Self-Service Controls
Employ setup wizards, templates, and other accelerators to get started rapidly.

Manage Multiple Touchpoints
Build online shops, in-application buying, and marketplaces, branded and localized at all touch points.

Product Lifecycle Management
Manage your online store, from importing products and generating buy links to setting up promotional campaigns or managing affiliates.

Optimize Purchase Flows On The Fly
Customize your branded buying experience and checkout processes to optimize conversion rates.
Catalog
Simplify Product Management with Flexible Product & Pricing Definition.
Multiply Sales,
Not Product SKUs
Deploy complex pricing schemes simply with the most advanced product catalog available. Easily define products, packages and bundles, or bulk import product definitions. And leverage a single catalog across direct and indirect channels.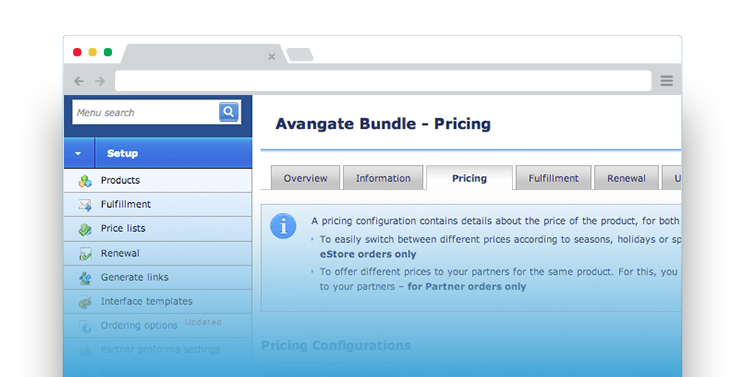 Sell More with Powerful
Marketing and Selling Tools
Grow Efficiently by Advanced Experimentation, Without IT
Understand your customers' behavior through sophisticated A/B testing, integrated analytics andcustomizable reporting. Drive increased sales through promotions, bundling, remarketing and other advanced marketing tools.
Focus on Your Business,
Not on Payments
Leverage a Single Business Gateway for Global Payments

LANDMARK
eCommerce simplifies the business of handling international payments. Get out of the box support for more than 130 currencies and support for multiple languages and payment methods. Increase sales and customer satisfaction with intelligent payment routing, multiple payment processor cycling and integrated payment retry logic. And lock out fraud with PCI compliance and multilayer anti-fraud protection.
Total Order and
Fulfillment Management
Sell Using Any Model - Freemium, Trials, Paid Subscriptions and More

LANDMARK
Avangate eCommerce Manager gives you the flexibility and control to introduce and experiment with the newest business models, capture orders across any touchpoint, and manage the software license lifecycle. Offer free or paid trials, freemium options or hybrid models to expand engagement and selling opportunities. Extend your licensing with upgrades and renewals, use Any Model API to provide your shoppers with a seamless digital buying experience across any device, or adopt new delivery and distribution models as they develop. Optimize fulfillment and manage global download, DRM integration, and the complete software lifecycle, from key distribution and SaaS activations to amendments.
Manage the Complete
Customer Lifecycle
Maximize Opportunities from Every Customer Interaction

LANDMARK
Increase Retention and Reduce Churn with the Optimal Mix of Self- and Assisted Service
Enable individualized service at every customer touchpoint. Empower customers to service themselves - even renew and upgrade - through the MyAccount portal. Leverage advanced marketing tools for abandoned cart recovery, unfinished payments and more. Increase renewals with the notification engine. And enable complex selling and servicing - and promotions or loyalty rewards - through any phone or web contact center.
Reporting & Analytics
Accelerate Business Insight
Report on all aspects of your software business to make quick, informed decisions. Gain valuable insights into revenue growth and trends by region and product lines. Use analytics to monitor your metrics of choice, compare similar periods and generate sales forecasts to assess your business performance and identify areas for improvement.

Financial Reports
Monthly Orders
Revenue Split
Monthly Recurring Revenue (MRR)
Account Balance
Chargebacks

Events Reports
Top Affiliates
Affiliate Sales
Top Partners
Renewal Forecast
Renewals and Expirations
Countries

Marketing Reports
Orders Statistics
Products
Product Options
Campaigns Overview
Cross-selling
Up-selling
Top Promotions
Email Metrics
Trial Conversion Rates
Additional Fields
Sales Source

SaaS Reports
Cohorts Recurring Revenue
Subscription Cohorts Churn
Financial & Business Operations
Scale Your Business, Not Your Internal Infrastructure
Avangate eCommerce Manager handles the financial aspects of customer transactions, providing you with all of the proceeds without any of the hassle, cost or risk.
Avangate streamlines payments for every sale, automatically generating a customer invoice and reconciling the purchase with your financial/ERP application. In the event of a dispute, we'll handle the refund or fight the chargeback for you as well as make sure disbursements are made and sales records are updated. We even speak your customers' languages and provide 24-7 phone and web support to answer any questions shoppers may have about their payments.

Refund and Chargeback
Management

Automated
Reconciliation

International
Shopper Support
Check Out These Resources to Learn More